Characteristics Of Sugarcane Tableware
Strong
Our sturdy sugarcane casserole, plates, bowls are lightweight and thick, with a unique embossed logo design that is beautiful and sharp-cut, with great strength and toughness.
1. Sugarcane casserole with CPET/PLA film coated is for serving hot meal to passengers, which is ovenable, with heated up to 220℃.
2. Regular bowls, plates and cups can withstand up to 120 ℃, microwavable.
Food Contact Safe
Our sugarcane casserole, plates, cups, bowls etc. are food contact safe and passed FDA test, certified by SGS.
Economical
These compostable casserole, plates, bowls and dishes are disposable for single use, which cut down on cleanup. Guests can enjoy a dining experience similar to traditional tableware, but with lower cleaning, sanitation and labor costs.
Sustainable
Made of 100% sugarcane pulp, 100% biodegradable, from nature, back to nature.
Healthy, non-toxic, harmless, hygienic, recyclable, protect resources
Why Is Bagasse Butlery Better Than Plastic Tableware?
With the development and progress of science and technology, the production of eco-friendly tableware has ushered in a new dawn. Without "sacrificing" convenience and functionality, "green" tableware made of bagasse is gradually being used as a substitute for plastic cups and other disposable plastic containers.
Traditional plastics (or biodegradable polymers) have a degradation time of up to 450 years (or require high temperatures), while non-toxic and eco-friendly materials such as bagasse can be degraded in just a few months.
Natural materials like bagasse, sugarcane, and bamboo are fully compostable and biodegradable. Normally, eco-friendly cutlerys, such as bagasse tableware and bamboo cutlery, will break down in 60 days.
In the latest research by scientists, Northeastern University researcher Hongli Zhu and others cast their eyes on bagasse (one of the most "high-yielding" wastes in the food industry). The bagasse fiber can form a tight network structure. "Making food containers is very challenging. Biodegradability is not the only indicator." Zhu said, "First of all, we need to ensure the food safety of the material. Secondly, the material needs to have good wet mechanical strength and cleanliness. It can only be used to hold hot drinks and hot food if these conditions are met." Thus, sugarcane tableware, also called bagasse tableware is of great benefit for us.
Sugarcane Tableware Pictures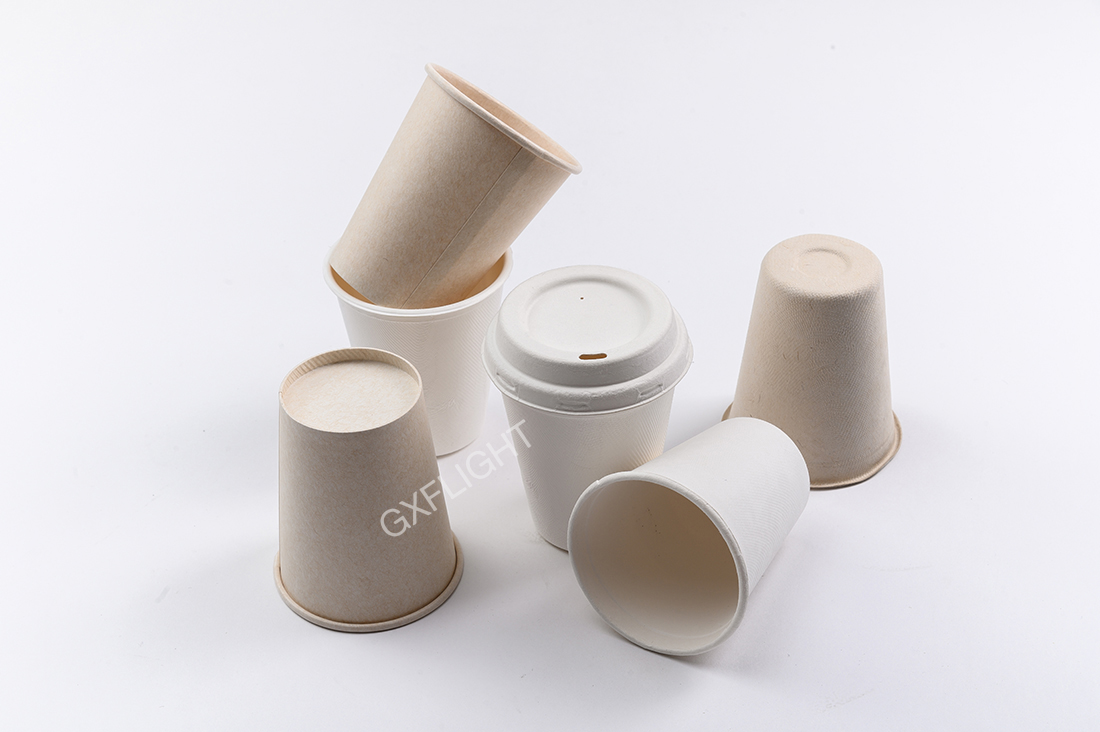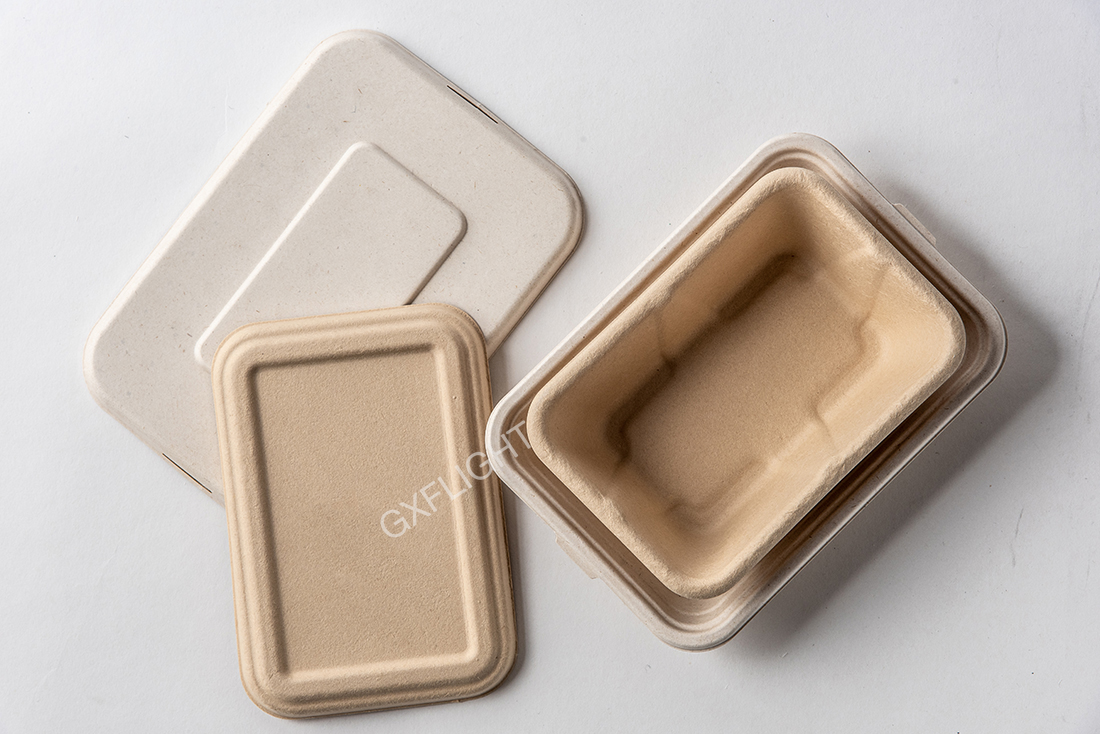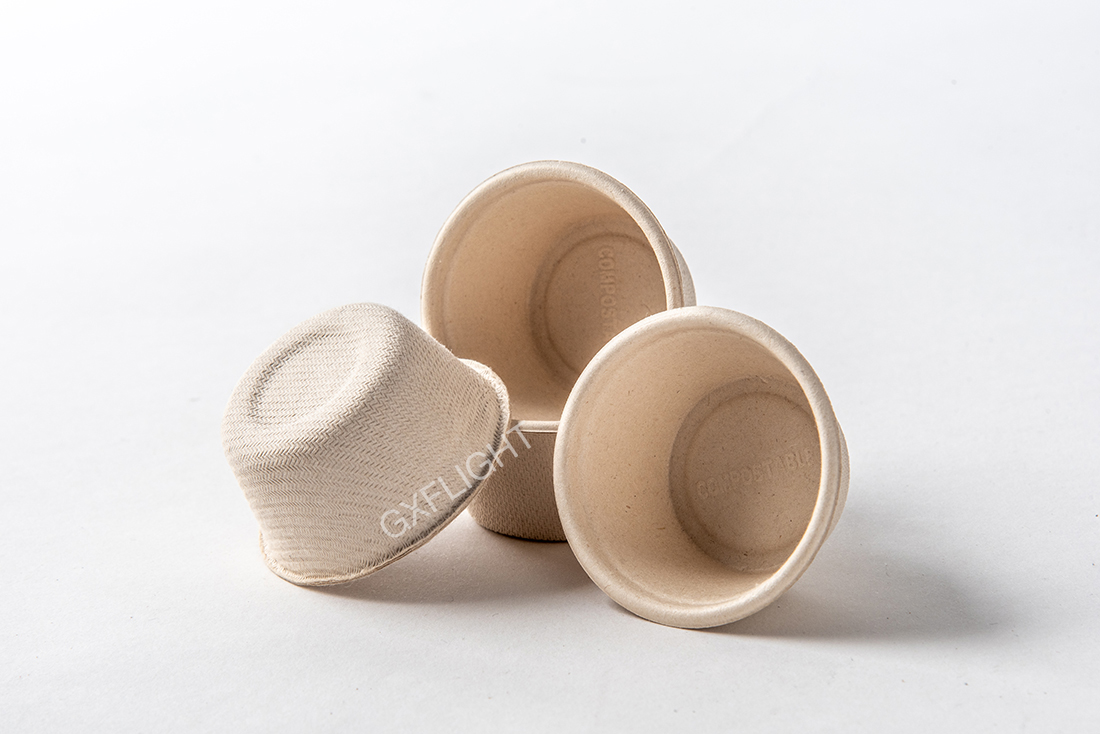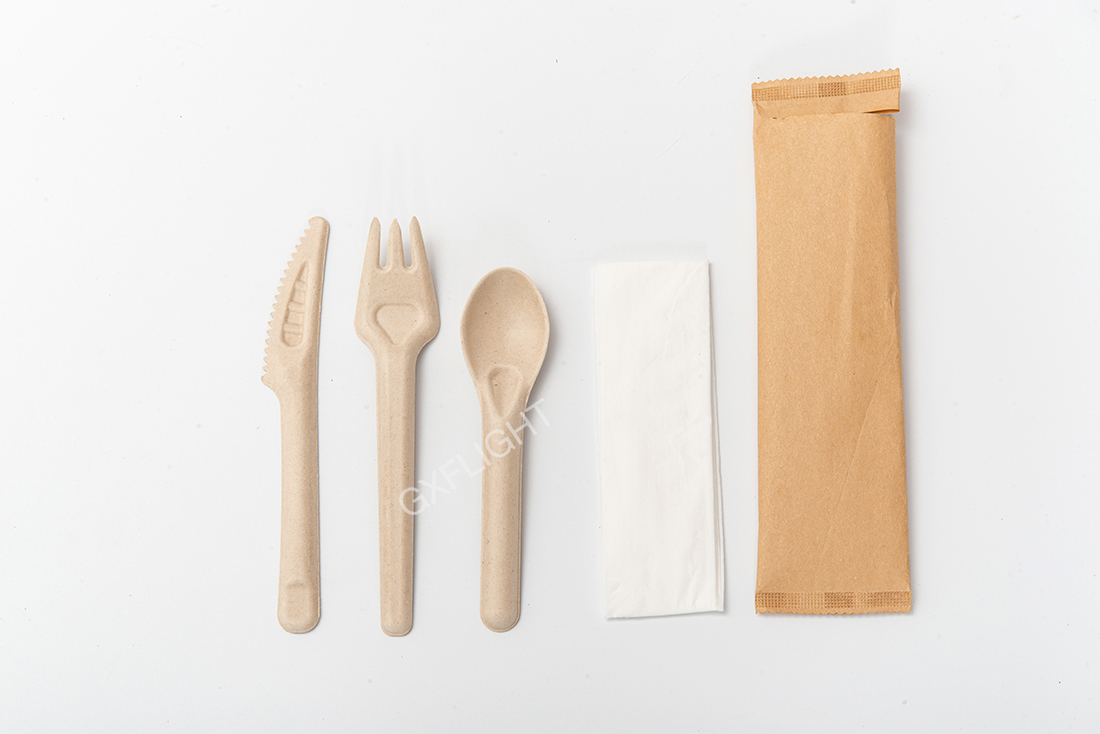 The Sustainability of Sugarcane Tableware
The sustainability of sugarcane tableware is one of its key advantages and a topic of interest for many people. As a professional sugarcane tableware factory in China, GXflight knows clearly about the sustainability of sugarcane tableware. Here are some important points regarding the sustainability of sugarcane tableware:
Renewable Resource: Sugarcane tableware is made from bagasse, which is the fibrous byproduct left after extracting juice from sugarcane stalks. As sugarcane is a fast-growing crop, it is considered a renewable resource, making sugarcane tableware an eco-friendly alternative to products made from non-renewable materials.

Biodegradability and Compostability: Sugarcane tableware is typically biodegradable and compostable. It can break down naturally into organic matter when exposed to the right conditions, such as in industrial composting facilities or home composting systems. This reduces the environmental impact and helps divert waste from landfills.

Reduced Carbon Footprint: The production of sugarcane tableware generally requires less energy compared to traditional plastic or paper products. Additionally, using bagasse as a raw material can help reduce greenhouse gas emissions by utilizing an agricultural byproduct that would otherwise be discarded.

Waste Reduction: By using sugarcane tableware, individuals and businesses can contribute to reducing the consumption of single-use plastics and paper products. This helps minimize waste generation and promotes a more sustainable approach to food service and dining.

Resource Efficiency: The manufacturing process of sugarcane tableware often involves utilizing the entire sugarcane plant, including its fiber, which is a byproduct of sugar production. This maximizes resource efficiency and minimizes waste.

Environmental Certifications: Some sugarcane tableware products may carry certifications such as the ASTM D6868 or the BPI (Biodegradable Products Institute) certification, indicating their compliance with certain industry standards for biodegradability and compostability.



It is important to note that while sugarcane tableware offers sustainability benefits, proper disposal is crucial to maximizing its environmental impact. It should ideally be sent to composting facilities or composted at home rather than ending up in general waste streams or recycling bins, as it may not be suitable for recycling in most cases.
Overall, sugarcane tableware provides a more sustainable alternative to traditional disposable tableware options, helping to minimize waste, reduce carbon footprint, and promote a circular economy.
GXflight: Your Professional Bagasse Cutlery Factory in China!
Are you looking for a reliable supplier of high-quality bagasse cutlery? Look no further than GXflight, a leading manufacturer and supplier based in China. With our commitment to sustainability and exceptional product quality, we are the ideal choice for all your bagasse cutlery needs.
At GXflight, we specialize in producing eco-friendly cutlery made from bagasse, the fibrous byproduct of sugarcane. Our state-of-the-art production facility utilizes advanced technology and adheres to strict quality control measures to ensure the excellence of our products. We are dedicated to delivering solutions that are not only environmentally responsible but also practical and efficient.
Why choose GXflight? Here's what sets us apart:
Premium Quality: We take pride in producing premium bagasse cutlery that meets the highest industry standards. Our products are durable, heat-resistant, and offer excellent performance for various food service applications.

Sustainable Manufacturing: As a responsible company, sustainability is at the core of our operations. By utilizing bagasse, a renewable resource, we contribute to minimizing waste and reducing our environmental impact.

Customization Options: We understand that different clients have unique requirements. Therefore, we offer customizable options for our bagasse cutlery, including design, size, and packaging, to ensure it perfectly aligns with your specific needs.

Competitive Pricing: We believe that sustainability should be accessible to all. Hence, we strive to offer competitive pricing without compromising on quality, making GXflight an excellent choice for businesses of all sizes.

Reliable Partnership: With years of experience in the industry, we have established a reputation for professionalism and reliability. Our dedicated team is committed to providing exceptional customer service, timely deliveries, and tailored solutions to meet your demands.



Join us in embracing sustainable solutions! Contact GXflight today to discuss your bagasse cutlery requirements, request samples, or inquire about our comprehensive range of products. Together, let's make a positive impact on the environment while enjoying the convenience and functionality of high-quality bagasse cutlery.