1. Classification of airline refreshing towels
With the change of people's living habits and the improvement of the quality of life, refreshing towels have basically been widely used in our lives, and they are necessities of people's lives. Do you know about airline refreshing towels? They are the same as general refreshing towels, which are also moist wipes that can be used to wipe the skin. The refreshing towels on the market can also be roughly divided into two categories: one is that it has been disinfected, but cannot disinfect other items. It contains skin care ingredients and can only be used for skin moisturizing. The other type is disinfection wipes that are not only disinfected themselves, but also can disinfect other items. They can be used to disinfect or sterilize skin abrasions, scratches, etc. The airline refreshing towels provided on airplanes are generally the second category.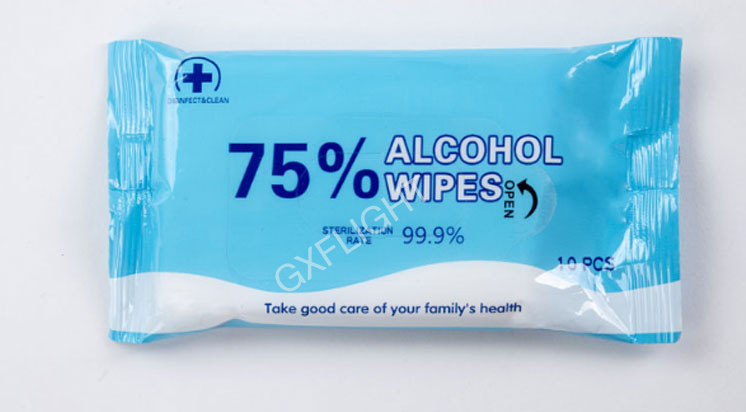 2. The purchase of airline refreshing towels
When choosing airline refreshing towels, be sure of their functions and positioning and distinguish between high-quality and low-quality wipes. High-quality refreshing towels have a soft and elegant fragrance without any pungent odor, while inferior refreshing towels have a clear pungent odor, and you need to pay attention to the product information details of airline refreshing towel packaging. Generally speaking, non-woven fabrics are mostly used for high-quality airline wet wipes, and the vertical and horizontal mesh spunlace non-woven fabrics are the best. The texture is soft and white, and you can feel it is compact and thick, while inferior wet wipes are thin and easily deformed.
In use, high-quality airline refreshing towels will not fluff, and inferior ones have obvious fluffing, which is irritating to the skin. Finally, you should pay attention to the functions of airline refreshing towels when purchasing. Generally, it is divided into two types: ordinary type and sterilization type. The ordinary type refers to the cleaning effect, and the latter has a strong sterilization effect. They can complete the cleansing of skin and object surface, working area and skin surface. And sterilization-type ones have 99.9% sterilization effect on Escherichia coli and Staphylococcus aureus.