The airline catering trolley, also known as the airline meal trolley or service trolley, is a small service cart provided by airlines for use by flight attendants to transport beverages, airline meals, and other items during flights.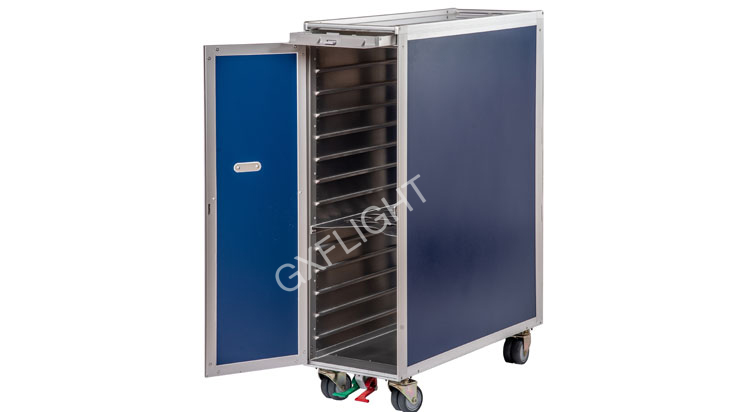 What is an airline catering trolley?
An airline catering trolley is a small service cart provided by airlines for use by flight attendants to transport beverages, airline meals, and other items during flights. It has a rigid box-like shape with wheels equipped at each corner for easy pushing and braking to secure it in place. The airline catering trolley comes in full-size and half-size specifications, with doors and handles at the front and back. There are several design series available on the market, such as ACE, ATLAS, and KSSU, which can be customized according to airline needs.
Diversified designs of airline catering trolleys
In the aviation industry, ATLAS is the most common size, used by approximately 80% of airlines. It was originally established by a group of airline companies (Alitalia, TAP Air Portugal, Lufthansa, Air France, and Sabena), hence the name ATLAS. Additionally, there are ACE specifications, primarily used by British airlines and produced by Driessen, as well as KSSU specifications named after Royal Dutch Airlines, Swissair, SAS Scandinavian Airlines, and UTA. Of course, individual airlines also customize existing trolley series according to their own needs.
Choice between full-size and half-size
The full-size ATLAS trolley is generally around 0.3 meters wide, 1.03 meters high, and 0.81 meters long, with an empty weight of about 15 kilograms. There is also a lighter design that provides half-size trolleys, with a length of 0.405 meters. Airlines can choose the appropriate size based on the aircraft model and flight requirements to ensure the proper transportation of meals and items during flights.
The crucial role of airline catering trolleys
Airline catering trolleys play an important role during flights. They not only transport food and beverages to the aircraft but also provide convenience for flight attendants, ensuring efficient service to passengers during flights. Imagine if these agile carts did not exist, flight attendants would have to frequently travel between the aircraft and the kitchen, resulting in low efficiency and potential impact on service quality. Therefore, airline catering trolleys can be considered as "helpful assistants" in improving the efficiency of flight attendants.
Future outlook of airline catering trolleys
With the continuous development and innovation in the aviation industry, the design and functionality of airline catering trolleys are also constantly improving. In the future, more intelligent catering carts equipped with automated control systems may emerge, making operations more convenient and efficient. Furthermore, to provide more personalized and diversified dining experiences, the internal structure and storage equipment of catering carts may also undergo innovative optimization. In the near future, can we expect more exciting food experiences during flights?