When choosing a reusable airplane headrest cover, material is a crucial consideration. Different materials have different characteristics and advantages. Let's first understand why PU material is the preferred choice for comfort and durability.
PU material, also known as polyurethane material, is a synthetic material commonly used to manufacture high-quality airplane headrest covers. It offers excellent comfort and provides superior head and neck support for passengers. PU material's flexibility allows the headrest cover to adapt to the passenger's head shape, providing personalized support and reducing neck fatigue caused by long-haul travel.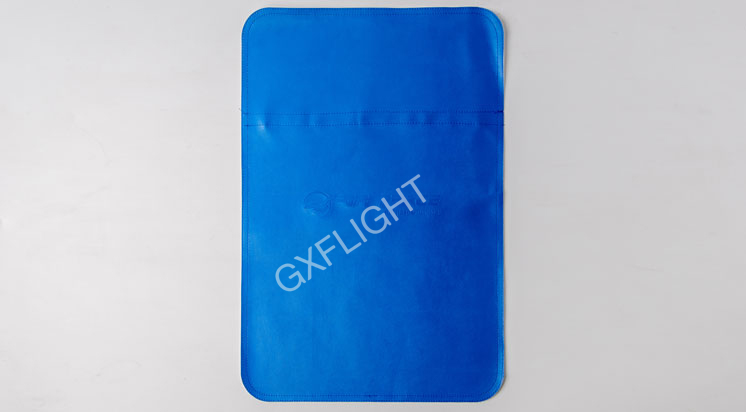 In addition, PU material also has durability, which is essential for long-term use and repeated washing. For airlines, their passengers may need to use airplanes frequently, so choosing PU material for headrest covers is a wise investment. Its durability ensures that the product remains in good condition after multiple uses, prolonging its lifespan and reducing replacement costs.
Furthermore, PU material has the advantage of easy cleaning, as stains and dirt can be easily removed with a damp cloth. This is convenient for both airlines and passengers, saving time and effort and ensuring a clean and hygienic travel experience for passengers.
Cotton and polyester materials airplane headrest covers - a comfortable and environmentally friendly choice
In addition to PU material, there are two other common materials worth considering, cotton and polyester. These materials are also excellent choices for specific occasions. Let's explore their advantages and suitable applications.
Cotton Material
Cotton is a natural fiber material that provides a soft and comfortable touch for passengers. For passengers who value nature and environmental friendliness, cotton material headrest covers may be a better fit for their values. Additionally, cotton material has excellent breathability, keeping passengers cool and dry during long flights. However, compared to PU material, cotton material is slightly less durable and may require more frequent replacement, especially in high-frequency use cases.
Polyester Material
Polyester is a synthetic fiber material with excellent durability and wrinkle resistance. For airlines, choosing polyester material for airplane headrest covers may be a cost-effective choice because of its relatively low cost and high durability. Polyester material is also a reusable option, but it may provide slightly different comfort compared to PU material.
Factors to consider when choosing the best airplane headrest cover material
When deciding which material to use, airlines should consider the needs of their passengers and their budget. If passenger comfort is the primary consideration, PU material is the best choice. It provides excellent support and comfort to meet the demands of long-haul flights.
However, if you prioritize environmental friendliness and natural materials, cotton material is a good option. It offers a soft touch and good breathability for passengers, although it lacks the durability of PU material.
For airlines that value cost-effectiveness and durability, polyester material may be a better choice. It has relatively low cost and provides long-lasting durability.
In conclusion, each material has its unique advantages and suitability for specific scenarios. Airlines should choose the most appropriate reusable aircraft headrest cover material based on their own needs and passenger preferences. Whether it's the comfortable PU material, the environmentally friendly cotton material, or the durable polyester material, all can provide passengers with a comfortable and enjoyable travel experience.